Supermarkt Attent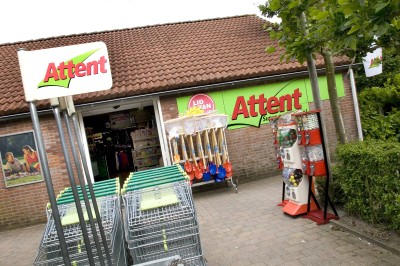 Our supermarket offers a wide range of products for your everyday grocery shopping. Here you can buy daily baked fresh bread, fresh meat, fresh vegetables, newspapers and everything else to make a meal complete. The supermarket is open daily, throughout the season.
Opening hours preseason:
Monday to Thursday from 8:30 a.m. to 12:30 p.m.
Friday from 8:30 a.m. to 12:30 p.m. and from 4:00 p.m. to 7:00 p.m.
Saturday from 8:30 a.m. to 12:30 p.m. and from 1:30 p.m. to 6 p.m.
The extra opening hours at Easter, May holiday, Whitsun, Ascension Day and Froleichnahm can be found in the shop itself.
High season opening hours: every day from 8 a.m. to 7 p.m.
Late season opening hours: Monday to Friday from 8:30am to 12:30pm and Saturday from 8:30am to 12:30pm and from 1:30pm to 5pm.
Bicyle rentals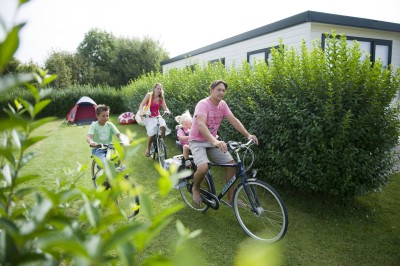 There are a variety of different bicycles available for hire from reception: 28 inch ladies and gents' bikes, various children's sizes and cargo bikes.
The prices per day/week are as follows:
Ladies bike €7,- / €35,-
Ladies bike with children's seat €8,-/ €40,-
Sportive bike €8,- / €40,-
Kids mountain bike €8,- / €40,-
Electric bicycle €18,- / €87,50
Fatbike (electric) €20,- per day
Cargo Bicycle €15,- / €75,-
Child seats €3,- / €15,-
BMX + protection set €8 per day
Step + protection set €7,50 per day
Protection set €3,- per day
Washing machines and dryers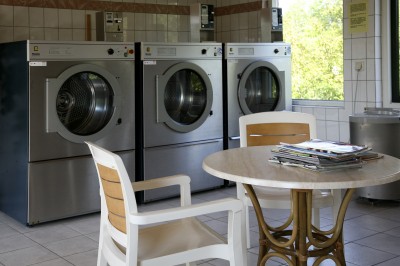 You will find a launderette with 5 washing machines and 3 large dryers behind reception. There is also an area for hand washing, plus an ironing board with an iron is ready for your use too. You can purchase wash coins from reception for €5-00 (including detergent). The dryer will accept coins from €0-50 cents (10 minutes/50ct).
Dogs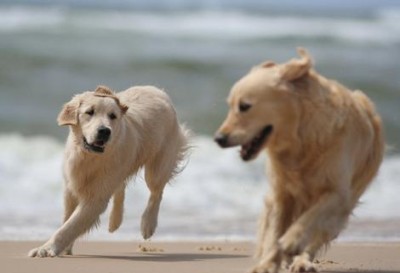 Enjoy a trip to the beach with your faithful friend! Dogs are welcome at Campsite de Pekelinge during the preseason and late season. However, the campsite is dog-free from 4th July through to 22th August 2020. Dogs are unfortunately not permitted in the rental caravans and chalets.
You will find a 2 km long dog beach between Domburg and Oostkapelle, which runs from the dog friendly Berkenbosch Beach Pavilion; beach pole 64 to beach pole 60. Parking facilities are available at the Strandweg in Oostkapelle.
Extras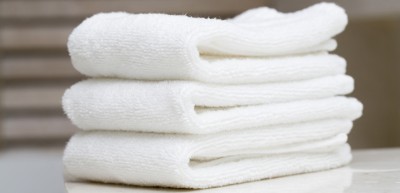 You also have the option of booking the following extras with your rental for that complete holiday feeling:
Linen package (€8,- p.p.)
Towel package (€3,50 p.p.)
Kitchen set (€3,50 per set)
Highchair (€2,50 p.n.)
Baby package, consisting of a highchair, baby bath, cot including 1x under sheet, 1x sheet and 1 blanket (€5,- p.n.)
Cleaning costs (€50,-)
Pallet floor rental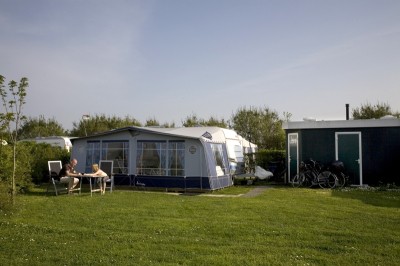 Pallets to be used in the awning can be rented through reception. This will ensure you have a flat floor and you won't be bothered by rising damp if there is a great deal of rain. The pallets are 1.20m x 1.00m and cost € 0,10 per pallet per day. You can rent these from reception and they will subsequently be brought over to your pitch.
Do you want to book for a period longer than 3 weeks? Contact in that case the camping itself directly by phone or email.