Welcome to the Oostkapelle 4 Day Cycling Event page: Wednesday 14th to Saturday 17th September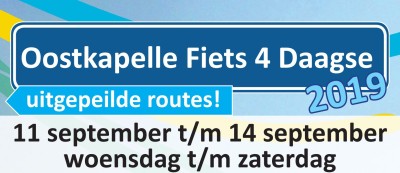 This is the second edition of the Oostkapelle 4 Day Cycling Event on the beautiful Walcheren. You will undoubtedly have cycled around this beautiful Zeeland island before. We have prepared 4 extraordinary routes for you. There will be a checkpoint around halfway on each route, where you will also have the opportunity to take a break.
Start location: Grand Café De Pekelinge/Campsite De Pekelinge (Landmetersweg 1, 4356RE Oostkapelle)
Start time: every day from 09:00-12:00 hours
Routes 40-45 km
All the tours will be exploring a part of Walcheren. One tour will take you to Neeltje Jans, one to Veere and one will even be going as far as Vlissingen/Ritthem. Of course one of the tours will also be taking you along the Walcheren coastline. Plus there are also shorter 20-25 km routes on offer on Wednesdays and Saturdays. So very suitable for families with children.
Participation costs:
4 days at €12-50 p.p. pre-registration €10-00 euro p.p. You will also be given a nice souvenir of this 4 day event in addition to the 4 routes.
Participation per day €3-50. Pre-registration is not possible for participation per day (you will not receive a souvenir).
Children up to 12 years old €2-00 per day.
Pre-registration is possible until 7th September.
The registration fee can be transferred to account number NL61 RABO 0311 2958 19 in the name of Grand Cafe de Pekelinge, with the following description: Oostkapelle 4 Day Cycling Event
Please also send an email to Pekelinge@ardoer.com
Including your:
Name
Address
Email
Number of people
Participating/not participating with the mussel festival (or satay)
It's also possible to register on the day.
Festive closing at the Grand Cafe de Pekelinge
Mussel festival € 15-00p.p.
We will be setting up long tables, where you can join the other participants and feast on some mussels (satay with fries is also on offer for those who prefer this) and talk about the event whilst enjoying the food and a drink.
You can register for the mussel festival by transferring €15-00p.p. to account number NL61 RABO 0311 2958 19, in the name of Grand Cafe de Pekelinge.
Camping Package in conjunction with the Oostkapelle 4 Day Cycling Event and the 10 Day Mussel Event
*4 days camping incl 2 people at a comfort pitch for € 137.50
*Incl. registration fee for the 4 day cycling event (€ 10,- p.p)
*2x mussel meal during the mussel festival (€ 12-50 p.p.),
*extra Walcheren junctions cycling card (€ 5,-)
Please mention that you want to book the 4 day cycling event when you book the camping package online. We will subsequently arrange your free registration for the 4 day cycling event and the reservation of the mussel meal.
Organisation
This edition will be organised by enthusiastic volunteers, who have already gained experience with organising various different running events and who have regularly participated with various 4 day cycling events themselves. All this in collaboration with Campsite de Pekelinge and Grand Cafe de Pekelinge. The campsite is profiling itself with the use of its sports and adventure programme and has also entered into a collaboration with Sportdorp (Sports Village) Oostkapelle. Grand Cafe de Pekelinge has been supporting the Middelburg town walk for many years and also sponsors 2 football teams. Plenty of connections with sports and exercise and with our beautiful island of Walcheren, for which we have created 4 fantastic tours for you to enjoy.
Oostkapelle 4 day cycling event regulations
Registration is done per person, anyone aged 14 or above can participate, except that there are no age restrictions in case of registration as a family. Registrations are personal and non-transferrable.
The 4 day cycling event is a recreational event without any competitive element.
The average speed should not be above 25 km/h.
Any participant registering confirms he is healthy enough to complete the event. The participant must assess this himself. We don't recommend participating if in any doubt.
The organisation can't be held liable in any way for accidents or illness, nor for the loss of personal possessions and the participant indemnifies the organisation against any claims arising from participation.
The participants must take note of the traffic rules applicable to each cyclist. They do not have any special rights. All instructions provided by the police or traffic wardens must be strictly observed.
The bicycles must satisfy all legal requirements. The use of mopeds is not permitted.
It goes without saying that participants may not leave behind any waste or other debris. Please dispose of this at the rest areas.
The organisers of the 4 day cycling event reserve the right to change the start and finish times and locations, or to either completely or partially cancel the 4 day cycling event as a result of extreme weather conditions, or other calamities, whereby the organisers can't reasonably be expected to do anything else. There will be no entitlement to a refund.
Any cases which these regulations don't cover will be decided on by the 4 day cycling event board. The organisers will ensure every participant has familiarised themselves with these regulations when registering.
The participant consents to the possible use of his image in printed matter, on the internet, in photographs or videos for the organisation's promotional purposes, without claiming any compensation for this.
Any violation of these regulations can lead to exclusion from further participation.
The participant confirms to be familiar with the regulations when registering.